If you're still searching for the summer, you shall stop watching the weather report. Just buy a copy of JUNKBOY'S fourth album KOYO. From the very beginning this album is just as beautiful as a perfect summer day can be. Fortunately you don't have to wait until the 31st of may when KOYO will be released, Emerging Fervour exclusively presents the song PIECES IN THE SKY from the album to download for free. On top of this, Rich and Mik Hanscomb took the time to answer a few questions and played a little game called "Guess that tune" with me...
MUSIC IS OKAY: Before we start to talk about your music, I think we need a short round of introductions for our readers. So, who is Junkboy?
Hello, I'm Rich Hanscomb. My brother, Mik, and I formed Junkboy many years ago when we were in our teens. Junkboy is basically the soundtrack of our lives. We've had various people come in and out of the fold but we're the core. We've been joined for the past couple of years by the lovely Ryan Oliver. He can't be here right now as he has a busy job in website optimization. Very Brighton. You understand.
MUSIC IS OKAY: Describing your music people obviously get the urge of talking about nature. Reviews are filled with words like winter and summer, breezy ambiances or cosmic folk tunes. Are you happy with this connection? And do you think your new album KOYO fits in there as well?
RICH: We're always happy when people associate the pastoral with our music. Mik and I are in awe of nature's mercurial beauty and Koyo fits in with that.
MIK: Koyo is an organic sounding album so the title and the music fit together.
MUSIC IS OKAY: What I really love is this special Lo-Fi sound on all of your records. It gives off a cosy and homelike feeling and when I listen to KOYO I feel in an unusual way very close to the music. So, tell me a bit about your way to cut a record. How does it take place?
RICH: The entire recorded output of Junkboy in terms of our albums have been a monumental struggle with harnessing our home studio! On the first three albums we really had no clue how to record. No idea what so fucking ever. Recording at home is important to us though. It's something we hold dear to our DIY ideology.
MIK: We used work backwards - devising lush chord structures and then adding rhythms and overdubs to refine the track. With the Koyo album much of the songwriting and overdubbing was planned out before we committed it to the studio allowing for more sophisticated and better arranged pieces of music, without losing the coziness.
MUSIC IS OKAY: Before (or whilst?) making your fourth album KOYO you moved to Brighton and Hove. Why was that?
RICH: Before and ostensibly so that Mik could study music at university. We wanted out of the suburbs.
MUSIC IS OKAY: Would you say this change of location had an impact on KOYO or your sound in general?
RICH: The beaches, the Downs, the Georgian, tatty bohemian splendor of it all impacted profoundly upon us. Mik and I are sensitive to our environment and that translates in the music we make together.
MIK: Indeed it has had an impact on us not just for the new surroundings but for the amount of talented people we have had the pleasure of knowing and working with on this record.
MUSIC IS OKAY: Various artists of the Brighton based WILLKOMMEN COLLECTIVE and other musicians could be found on your new album. Do you have a special relationship to the Willkommen Collective?
RICH: I'm president of the Sons of Noel and Adrian fanclub. I oversea the production of the official merchandise like guitar tablature books, beer mats, Toby jugs and neckerchiefs. You should definitely check out The Climbers and Laish on Willkommen who both have sublime records coming out this year.
MUSIC IS OKAY: From folk to chamber pop to Krautrock, your musical range on KOYO is quite diverse. What are your musical influences and are there other artists you admire?
RICH: I really love 60s L.A. producers like Gary Usher, Tandyn Almer, Curt Boecther, Jack Nitzsche ... second wave British Folk revival, all of that 90s Chicago post-rock scene… There's so much music that I'm always discovering both old and new. Judee Sill, Laura Nyro, Shirley Collins, Lal Waterson, everything on Finders Keepers, Make Mine Music and The Great Pop Supplement. Moving down to Brighton and meeting other musicians has kicked us up the arse to really push ourselves creatively. Junkboy are into the concept of a life time in music not a career in music - we admire artists who are motivated by the sheer joy of creating music.
MIK: Moby Grape, Mamas and Papas, Brian Wilson, L.A. Psych, British and Brazilian folk have been a big influence on me during the making of Koyo. There are so many other diverse artists I love listening to such as Pullman, Elliott Smith, Lymbyc Systym, Author Verocai, Ryuichi Sakamoto, The Temptations, The Delphonics, to name a few. Everything we love listening to is an influence and an inspiration.
MUSIC IS OKAY: Your album will be released on the 31st of May. What are your plans for the forthcoming months? Is there a chance to see you live? Are you playing festivals this summer?
RICH: We're just finishing recording an exclusive track for a brilliant label called Second Language Music which will be out later on this year and we're currently rehearsing for shows. Hopefully we'll be ready for the stage come high summer time.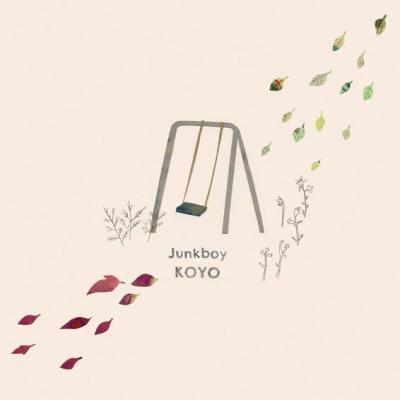 GUESS THAT TUNE: I gave Junkboy six tracks without title or artist. And guess what, they did very well and the songs brought back some old memories.
Steely Dan - Through with Buzz
This is Steely Dan, 'Through With Buzz'. When Mik and I were younger, our Dad was always playing Steely Dan. I couldn't stand them. That album, Count Down To Ecstasy, always used to make me feel uncomfortable. I kind of appreciate their sass and cynicism now I'm older. They hated L.A. but were fascinated with it at the same time. Classic Southern Californian psychosis. Slick production, 'wry' lyrics, fantastic string flourishes. Wankers.
Gil Scott Heron - The revolution will not be televised
'The Revolution Will Not Be Televised' by Gil Scott Heron. Great flutes, great lyrics. When we made the first Junkboy album, a guy called Bryan Styles was recording and writing with us. I really loved that guy, he was really important to me as a 20 year old as he got me into so much music – Funkadelic, Parliament, Sly, Marvin, jazz, soul, funk…he always used to play this in between us working out how to use Cubase.
Violent Femmes - Kiss off
The Violent Femmes isn't it? I don't know the track. I remember trying to listen to them as a teenager because Juliana Hatfield (who I really dug when I was 13 years old) name checked them on her song, 'My Sister'. I didn't like them. Do I loose cool points? Well, I wasn't born into a Wire magazine subscription.
Talk Talk - Life's what you make it
Talk Talk and 'Life's What You Make It'. What a pop song: mercilessly efficient, it just pummels your cranium and heart with yearning. They're a big influence on Junkboy and they're Essex boys too. It's all about those North Essex Medieval Villages. There is beauty in my home county, I'm convinced. Mark Hollis's solo album – check it out. Amazing.
Nico - Heroes
No idea of who this is covering 'Heroes' by Bowie. I've never got on with Bowie and I suspect I never will.
NEU! - Hallogallo
Neu! 'Hallogallo'. Don't let Kasabian put you off, kids, this is awesome. Autobahn assured poise and glide. Neu! posses what their hordes of imitators don't: class. Never have a band been so justifiably overrated. We got into this after hearing 'Millions Now Living Will Never Die' by Tortoise. That was an amazing gateway album for Mik and I to get into Krautrock, electronica, jazz... It showed us you don't have to use a vocalist to communicate emotion in music. That's a cool thing to learn when you're 17 and still reading the NME.
Junkboy on myspace:
http://www.myspace.com/junkboymusic
Download PIECES IN THE SKY for free exclusively on Emerging Fervour:
http://www.emergingfervour.com/interviews/junkboy-koyo/attachment/5-pieces-in-the-sky/
bangbangrockandroll - 18. May, 10:30
8157 read