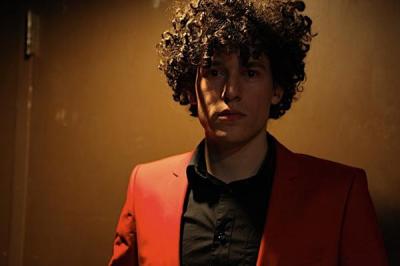 Emanuel And The Fear were touring Europe for the first time in April. So I took the chance and visited them backstage for a little chat. And they told me about different audiences, dead rock star dreams and of course, a lot about their music.
MUSIC IS OKAY: HOW DOES IT FEEL BEING IN EUROPE FOR THE FIRST TIME?
We heard rumors that people listen to you, when you come to Europe and they don't talk when you play. And it's true. They have always been really quiet and into the music. We usually feel uncomfortable playing the slow songs, and we quite have a few, but we rarely play them in New York. But here, we've been playing acoustic and soft songs and people sit and listen. It is a different crowd, it really is. And I think it's a different culture, when people turn up, they wanna hear what you do. We all felt very welcome and definitely wanna come back to Europe as soon as possible.
MUSIC IS OKAY: TELL US A BIT ABOUT THE BEGINNINGS OF THE BAND. HOW DID YOU GET TOGETHER?
After some band experiences and working for a film composer, it sort of moulded that I wanted to do the writing and scoring, but not dealing with all the drama and different personalities you have in band. So I approached musicians with that in mind and organized that eleven person thing after I had made a four track demo. Then we started gigging and everyone got in the studio and we did the EP and the LP.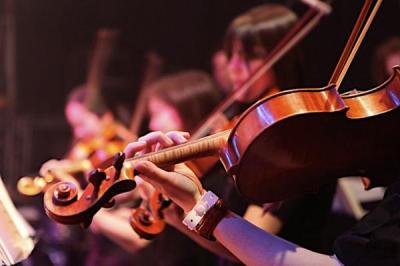 MUSIC IS OKAY: SO YOU'RE THE BANDLEADER?
Yes, it's my little brainchild. I wanted to do something different and unique, like a spectacle. And also with that many people, if everyone was writing it would take ten times longer and we probably hate one another and things would be really complicated. At the end of the day, it's my name on it, so it's sort of my responsibility, I guess.
MUSIC IS OKAY: ARE YOU A BAND OR ARE YOU A PROJECT?
The people that were coming on, have become solid members. It started as a project, but we're definitely a band now. It's evolving.
As a musician you only invest time and energy in something you really believe in. So you wanna be a part of it and you automatically become a band.
We're working together, I mean they all know their instruments better than I do.
MUSIC IS OKAY: WHAT WOULD YOU SAY IS SPECIAL ABOUT YOUR LIVE PERFORMANCES?
We are all formal trained and professional musicians and because of the skill level there's a lot of room to do something really different. And it's a theme, that I want to be in our music. I mean sometimes we change complete songs on the fly while playing a gig. Or we even work new ideas out when we walk into a venue. People love that about us and our music. Playing your songs like on the record is like killing an animal and stuffing it. Like 'here, that's what it looked like, when it was alive'. And it's great if people come up after a gig telling you 'I liked you so much better than on the record.' I mean the other way round is really upsetting isn't it? I think that's a great problem to have.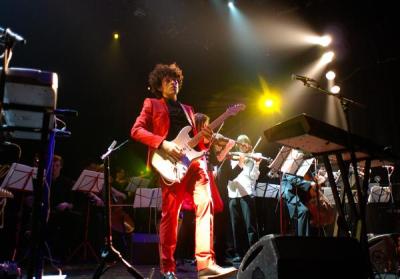 MUSIC IS OKAY: YOU JUST RELEASED YOUR DEBUT ALBUM, DOES IT MEAN YOU'RE NOT HAPPY WITH IT?
I'm absolutely happy with what we came out, but I'm happier with our music being played live. And it's so much fun playing songs live and with that many people, there are things happening between us on stage, you can barely catch it on a record. But it's my goal for the next recordings. People shall hear that it's not just a studio thing, but we're real musicians.
MUSIC IS OKAY: YOUR MUSIC RANGES BETWEEN A LOT OF GENRES, IS THERE ANY WAY YOU WOULD DESCRIBE IT?
It's very visual music, so I'm fine when people say it sounds like a movie score. I definitely see things when I'm playing or writing music. But if people don't understand what we're doing, it's fine. I don't understand it either. The thing is, if you are into heavy guitar rock, you will be disappointed with 70% of the album. If someone is into quiet piano ballads, they will be disappointed with 70% of the album. But if you're a fan of all kinds of music, you will love 100% of the album.
The sound of what we're doing is definitely too difficult to categorize. I wrote this music and I don't want it to be in a certain genre. It should sound like a cool person you wanna talk to. And the sort of cool person I'm talking about would not delimit oneself to behave in a certain way. I wouldn't wanna hang out with a robot all the time. So many people just follow the rules. And I don't like the rules.
MUSIC IS OKAY: NOT FOLLOWING THE RULES OFTEN MEANS EARNING LESS MONEY.
If you're playing music, it's because you like it. The rock star dream is dead. I mean people who don't accept that, are deluding themselves. You play music, because you have to. That makes you happy. I may starve the rest of my life, but I have to play music, because I would be miserable if I didn't. And if you're thinking in terms of becoming a rock star and get rich and famous, then you're probably in the wrong business.
http://www.emanuelandthefear.com/
There's nothing left for me to add. Emanuel And The Fear are planning to come back to Europe in October. Don't miss them and their mazing show. And don't forget to buy the debut album LISTEN.
Check out the album review on Emerging Fervour:
http://www.emergingfervour.com/music/have-no-fear-just-listen/
bangbangrockandroll - 24. May, 08:30
3371 read