Gabby Young and her eight piece band Other Animals are ranging from gypsy folk, pop, rock, jazz to cabaret and swing music. Their shows are something between a circus, a burlesque cabaret and a ballroom event. They recently released their debut album "We are all in this together" on their own label Gift of the gab records and will be touring Europe and Australia this year. So, time to ask Gabby a few questions about her music, her fashion and of course, her upcoming plans.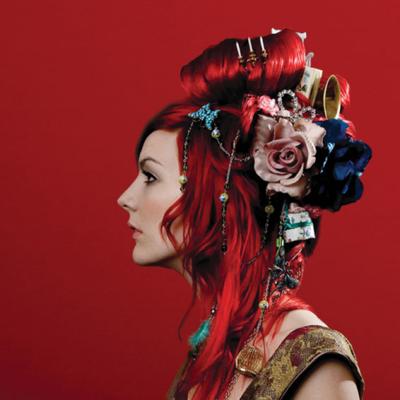 MUSIC IS OKAY: Your style is unique and quite flamboyant, your music is a mix of swing, folk, jazz and pop, you entitled it "Circus Swing". It's obvious that you're here to entertain and your intention is to bring a happening to your audience, not only a gig. But who is this Gabby Young? Are these your true colors onstage or are you any different backstage?
GABBY YOUNG: I have never sat down and planned a persona for the stage Gabby Young, I just try and be myself. I definitely get possessed by confidence when I step out on stage and the audience seems excited to see what I'm about to do. It's a powerful feeling and one that makes me feel like I can do anything. When I am home or walking the dog I don't have the energy of the audience to keep me as confident but I am always as positive as I can be and try and spread happiness! It is important for me to put on a show and keep the people that came to see me as interested and involved as possible- that's why I put on events- not just gigs- so they can join in and become part of the show. I think I have always done this throughout all parts of my life though –collaborated with other people to create wonderful, exciting things!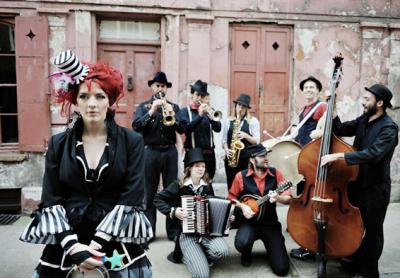 MUSIC IS OKAY: Dare I say you're an authentic person, you don't seem to be phoney or fake.
How hard is it to remain true to yourself even if people sometimes don't appreciate what you're doing?
GABBY YOUNG: Thankyou! I am predominantly a musician and a hard worker - I never try to pretend to be anything else. I am a firm believer that we are all equals- I have never understood a 'diva' sensibility – 'We Are All In This Together' after all- cheesy I know but I mean it most sincerely. If people don't 'get' what I'm doing I try not to let it get to me- I am lucky enough to have a lot of amazing people who differ to them and I am so thankful for there support- it allows me to just do what I do and not let anything change that.
MUSIC IS OKAY: And tell us a bit about you and your band. You're called Gabby Young and other animals. So, are you the leader or is every member equal?
GABBY YOUNG: Oh everyone is equal but I would be lying if I didn't say that I am the captain of this ship! I'm no good at discipline issues though and I adore every animal- they are family to me! We are a very lucky band- all are positive, supportive, loving and incredibly generous to each other- we also LOVE playing music together- so that's lucky!
MUSIC IS OKAY: Take this as compliment: you're music's very special, nothing I would describe as mainstream. So how difficult was it to get your debut album done and released? And was the foundation of your own label "Gift of the gab" records something inevitable or a chance you wanted to take anyway?
GABBY YOUNG: I have always been the one to back my own horse and throw everything into something I want to do- this has been my lifetime ambition, no this has been my life. From 11years old I was going to be a singer – I went through many phases from Opera to Jazz and swiftly past the musical theatre and heavy rock stage but when I started writing songs at 17 I haven't looked back. I am also not one to sit and wait to be picked up and 'allowed' to do things like record an album, put on shows in dream venues and tour relentlessly – I decided to do that all by myself. My label was the next stage and the easiest decision. I am incredibly fortuitous to have my parents running the label with me and now we have a great team helping me make it all happen. It is a risk but I wouldn't be content not being in control and involved with all aspects of my career.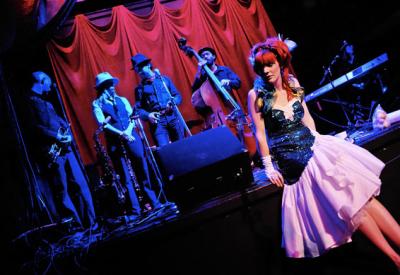 MUSIC IS OKAY: Let's stick to the life within the music business. Looking to the British music scene it's mostly male dominated and you see female artists like Pixie Lott or Sheryl Cole and not to be forgotten shows like the X-Factor. Is there actually any room for self-confident and musical opinionated artists like you?
GABBY YOUNG: Well I actually think we are in a female dominated time – there is a lot of girls out there and I am impressed by a lot of them- bringing out a fresh sound into the charts. I try and not take life too seriously and that includes the music business… I am fully aware it is a fickle, scary scene right now and I don't let it affect what I do. I'm a fan of the X-Factor- makes great TV viewing! There is always room for everyone- I don't strive to be mainstream or huge so I'm sure there's some space for little ole me to be appreciated!
MUSIC IS OKAY: And how do you seize the general role of women in music nowadays? Do you think it's an equal business or is it harder for women becoming successful?
GABBY YOUNG: I guess I just answered that… 2010 is a powerful year for women getting together and creating amazing things especially art, crafts, fashion- I'm sure it will be the same for music!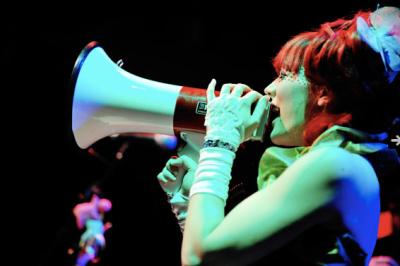 MUSIC IS OKAY: I have to say I really like your idea of fan involvement. On your website you're offering your fans the chance to become a part of Gabby Young and the other animals by becoming an animal themselves. Depending how much a fan likes to spend, he gets an album and a free gig ticket, up to a backstage visit, attending a band rehearsal or suggest song topics. How did you hit on that and why?
GABBY YOUNG: We were invited to come out and play at SXSW, Austin, Texas which is the biggest and possibly most important music festival for the industry but we couldn't afford to get out there for it so that was the catalyst- we needed funding to do things that normally a big label would pay for –recording, making videos and travel to name a few. That's when I started plotting ideas to get the fans involved and that sort of took over it no longer became about money- it was more about giving them more for there money and learning about our fans –so that when we are planning shows we can include them, chose the city by how many 'animals' we have there or give them bonuses for helping us out. I have got so much from fan input and I wanted to be able to carry this on and give something back.
MUSIC IS OKAY: I reckon people who sort of "invest" in an artist happen to appreciate the artist's work a lot more. Would you say your fans stand out due to something? Would you say they're maybe more engaged or loyal?
GABBY YOUNG: I have a wonderfully loyal and supportive fan base- I am so thankful for that – I think they are a special bunch of people and everyone I meet is always doing something amazing with their life – they are all open to ideas and willing to help us with ours- I think that's pretty unique and I hope as our fan base grows that stays the same. I hope that they feel part of what we do because they are.
MUSIC IS OKAY: What is the nicest thing a fan ever said or did for you?
GABBY YOUNG: One fan made me 8 BENCHES! Yes wooden benches- with my name all over it… he delivered them to me at a series of gigs I did one summer but I never had room to take them home so they are still now dotted around the country!! I think the best things fans to say to me is 'I love what you do and would love to work with you' –that happens a lot with fashion designers and crafty types and I am more than happy to oblige as much as possible.
MUSIC IS OKAY: I've heard you're going to play at the New York Fashion week? Off the record: dog's bollocks, I'd say! What are your plans this year what can we expect?
GABBY YOUNG: I have quite a year coming up- I can hardly believe it! The next show is 8th May at The Jazz Café, which is definitely crossing a venue off my wish list! This summer is full of festivals with Glastonbury, Womad, Green Man and Standon Calling to name a few. I'm off to tour Australia in October (we got signed by a Aus label earlier this year) also there are talks of a European and Irish tour… but yes NYC Fashion week – SO EXCITING! I am launching my own collaborative clothing label with Miss Kiki Salon- Salon Gabrielle there so it can't get much better than that!!
MUSIC IS OKAY: If you could make a wish, what would be THE one thing you want to do as a musician?
GABBY YOUNG: To work with an orchestra and a choir is my ultimate dream – I WILL make that happen!
MUSIC IS OKAY: And lastly: What's the one song you wish you would've written?
GABBY YOUNG: This is a seriously tricky question – many songs are going through my head… but my decision for now is Jeff Buckley's 'Lover You Should've Come Over' .To me it is perfect- lyrically and musically.
Where to see Gabby Young and the other animals live:
05.06.10 Sunrise Festival
12.06.10 Wiltshire Jazz Festival
25.06.10 Glastonbury
09.07.10 Marlborough International Jazz Festival
10.07.10 Nozstock Festival
23.07.10 Womad
07.08.10 Standon Calling Festival
On the 8th of may they're playing at the Jazz Café in London, get tickets right here:
http://www.jazzcafelive.com/newsandevents/templates/bookings.aspx?articleid=1019&zoneid=1
Check Out their websites page for updates:
http://www.gabbyyoungandotheranimals.com/
http://www.myspace.com/gabbyyoung
bangbangrockandroll - 19. Apr, 11:00
4273 read